Most of the non fiction books which comes these days are not very attractive for all type of readers , very few books attract the readers and stand out from others. One such book is Faster , Smarter , Higher – Managing your career.
This books deals about the skills which are required to grow one in their career. Almost everyone who wish to rise high in their career depend on expertise on subjective matter and not on their skill. This subject is open to experts and managers and freshers and office goers to be prompt. But this list is not a end as the freshers can learn more from it who are yet to adapt to the corporate culture.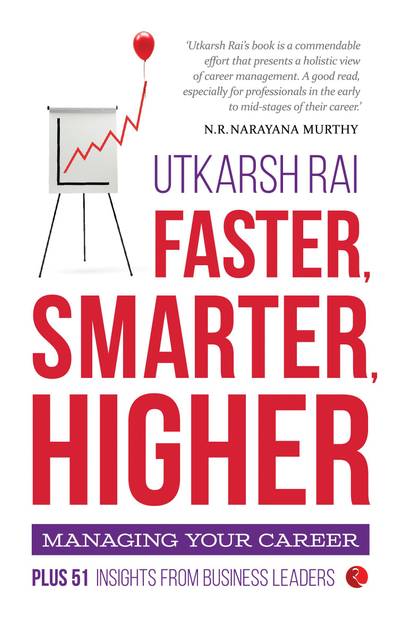 The challenges faced by the working people , be it a career or work , this provides advice's about how to solve that in a better manner. There are many things which are provided in the book , which pertains to different level of employees or managers in a firm. The insights provided in the book refers to managing your career in different levels.
These are not advice but simple steps in managing one's career with simple steps and ways. Nowadays smart work is considered great when compared to hard work. the percentage of smart work out smarts hard work. The ways mentioned in the book are simple to learn and to master it is also simple. This doesn't stop with one role in a work environment , it adds up to multiple roles and you will find this as a guide to make your career scale grow in positive way. Throughout one's career one should learn to develop his skills no matter in what level he is. So , development is based on skills. Skills grow when one learn how to manage things in a smart way in a faster rate.
It is also evident that this book provides straight guides. The author has used simple language so that readers could easily get what he tries to convey. He also adds up more information through the advice.
I would suggest this book for non fiction lovers and people who are in start of their career or in the middle. This book will also be loved by all the management book readers. The book is different from others in the way of simple language and more crisp ideas.
---
About the Book:
Title : Faster, Smarter, Higher : Managing Your Career
Author :  Utkarsh Rai
Publisher : Rupa Publications India
Genre : Non Fiction / Management
ISBN : 9788129137500, 812913750X
Copy : Flipkart Review Program
Rating :
---
Links :
Flipkart : Faster, Smarter, Higher : Managing Your Career
---
Happy Reading,