Readers would be in for a surprise from Anuja Chauhan in her new book "Baaz" which has an interesting storyline with backgrounds of Bangladesh Liberation War. Apart from her regular female protagonists in her previous book, this book has a male protagonist with an intensive back story.
Anuja Chauhan is known for her books that strongly portrays emotions filled with befitting family relations, witty sub characters, romance overflowing with absolute Indian flavors.  But here is a romantic thriller that makes us go in awe and without giving us the opportunity to avert our eyes from the exhilarating plot.
The plot is about a fighter pilot named Ishaan "BAAZ" Fajudar aka Shaanu who is from Chakkahera, Haryana, who always finds pleasure in doing things that others dread even thinking about. He is all for the dhook dhook and the initial pages firmly establish his eagerness to attain wings and soar the vast blue sky.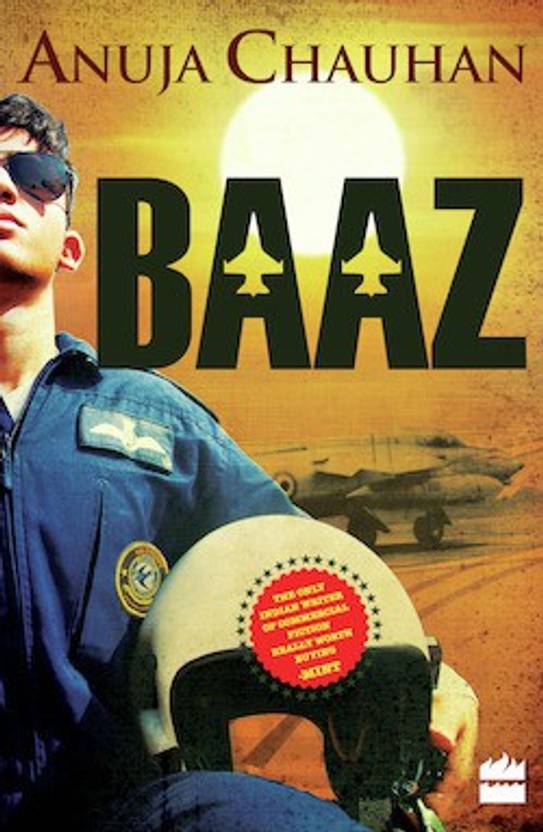 He is in a constraint relationship with his father and have siblings who he loves more than anything in the world. He then joins the Jodhpur flying school and joins the Indian Air Force to fly the famous Gnat aircraft fighting for the army in the Liberation army. He is fueled with a passion of patriotism and justifies the war.
These are until he meets Tehmina Dadyseth aka Tinka, a war photographer plunging into war zones speaking about non violence and war less worlds, although coming from a family of army people. And both people fall in love.
The plot thickens from here and shifts to sequences which will be better if you read and know what is aftermath of this. The author has touched upon a number of things such as cumbersome parenthood, love filled siblings, effects of war, patriotism and also about incessant arguments that will be the highlight of this book.
Anuja Chauhan always indulge the readers into intricately oven plot line which doesn't falters or diverges us from the main story and this is also a reason that this book engages us to the end.
The language of the book is simple to understand without any complications and makes for a breezy with characters like Raka, Tinka's aunt who are as important to the plot line. The book rather than speaking about vanity of wars, the great courage of he army, love for the flying and this is a perfect ode to the Indian Air Force.
This book will surely engage you with its amazing brevity. The Hinglish doesn't bother us much as this brings genuine Indianess into the crux of the story and the witty places make us laugh well.
The book is a good page turner engaging us till the end with its awesomeness and of course Chauhan's characters that mesmerizes wanting us know what happens next will sure make to pick the book for a re-read. Also there is much to know about how passion strives thoughts.
I would recommend this book to all Anuja Chauhan's book and she has't disappointed her readers and also for new readers who wants a racy plot with genuine Indianess imbibed within it. So do give it a read and share your thoughts.
About the Book:
Title : Baaz
Author : Anuja Chauhan
Publisher : Harper Collins
Genre : Fiction
Copy : Flipkart Review Program
ISBN : 9789352644124
Rating :  
____________________________________________________________________________________________
Links :
Flipkart : Baaz by Anuja Chauhan
____________________________________________________________________________________________
Happy Reading,