The answer "Liaquat Ali Khan" would arrive like greased lightning if asked "Who was the First Prime Minister of Pakistan?" to any history buff or a quiz nerd. But many like me would not be aware of his spouse Begum Ra'ana Liaquat Ali Khan as much as we know about Michelle Obama or Sonia Gandhi.
This biography "THE BEGUM: A Portrait of Ra'ana Liaquat Ali Khan, Pakistan's Pioneering First Lady" is a collaborative account co-authored by Deepa Agarwal from India and Tahmina Aziz Ayub from Pakistan. The intruiging title piques your interest along with the ravishing cover with a portrait of Begum Ra'ana in contrasting background shades of green and red designed by Ahlawat Gunjan. The introduction by Namita Gokhale, writer and the director of JLF gives us a glimpse about Begum Ra'ana's magnetic personality and forward-thinking vision. Namita Gokhale also surprisingly shares her maiden surname and a common ancestry with Begum Ra'ana.
The book is divided into two symmetrical parts – the first part by Deepa Agarwal traces the life of Ra'ana born Irene Ruth Margaret Pant on 13 February 1905 in India, her school and college life, her marriage with Liaquat Ali Khan, and her final departure in 1947 to Pakistan after partition, and the second part by Tahmina Aziz Ayub documents the life of young Ra'ana as the first lady of Pakistan, the visionary founder of All Pakistan Women's Association (APWA), the farsighted diplomat, formidable stateswoman and Madar – e – Pakistan.
Deepa Agarwal's meticulous anecdotal account traces the life of Begum Ra'ana from her childhood to her apparent departure across the border with her husband. Deepa's account explores Begum's early childhood in Almora providing insights about the conversion of the Pant family to Christianity from Orthodox Hindus traversing through the various holiday destinations she spent the summers, her stint as a professor of Economics in Delhi, her subsequent conversion to Islam following her marriage to Nawabzada Liaquat Ali Khan and their subsequent need to leave her family, country and donation of Gul-i-Ra'ana for the use as residence of Pakistan's High Commissioner. Deepa also shares tiny interesting nuggets about Begum Ra'ana's insistence of not parting with an old carpet because it belonged to her mother and also packing a suitcase full of cigarette lighters along with other possessions. This part by Deepa particularly engages the reader with the little-known anecdotes and sharing the myriad social, cultural and political influences that forged her forward-thinking thoughts and her magnetic personality.
Tahmina Ayub's second part provides vivid insight into Ra'ana's arrival in Pakistan with her husband and two sons, her illustrious role with other women aftermath the traumatic events of partition, her commitment and achievement in national development with the creation of All Pakistan Women's Association (APWA), her steadfast friendship with her lifelong companion Kay Miles who left everything to rally behind as a support to Begum Ra'ana, the tragic assassination of her husband Liaquat Ali Khan and her work as a humanitarian, women's rights activist and nationalist who worked tirelessly for the empowerment of women in Pakistan. Although this part sometimes makes us weary with the repetition of certain anecdotes and facts, this precise part shows us the tenacity with which Ra'ana brought her two children despite the paucity of funds but also relentlessly working as beacon of hope for millions of women in the newly born nation illuminating people's life with much needed confidence.
In the afterword written by Laila Haroon Sarfaraz, she shares the vital role Begum Ra'ana played in her life and about the prestigious women's organization (APWA) which Ra'ana created and was instrumental in the creation of progressive women's protection law in the country. The annexures and interviews where she shares openly about her disappointment regarding the partition and against the rise of religious conservatism and corruption makes this book a cogent read.
Deepa Agarwal and Tahmina Aziz Ayub's captivating portrayal of a remarkable woman who was one of the fascinating figures of modern South Asia, who belonged to both sides of the Radcliff Line makes this a distinct and animportant book that should not be missed.
---
Favourite Quote:
"When you educate a boy you educate an individual but when you educate a girl you educate a whole family". 
_______________________________________________________________________________________
 Rating :

____________________________________________________________________________________________
About the Book: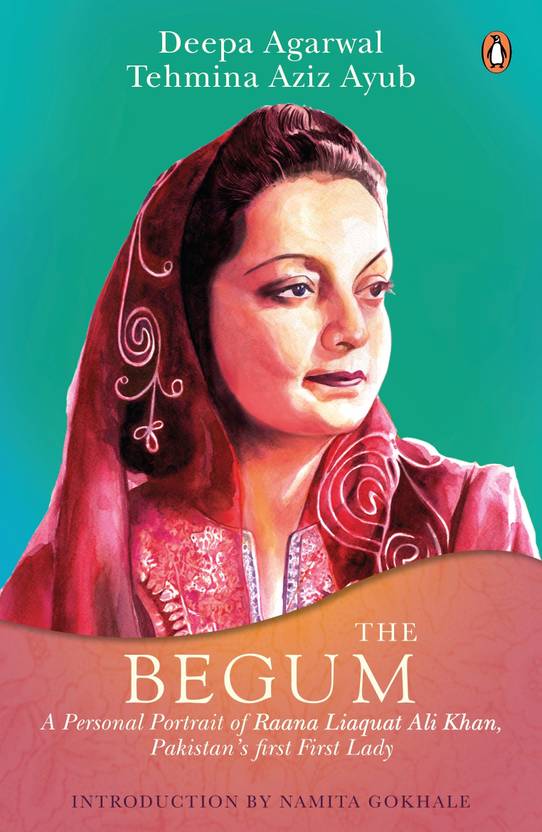 Title : The Begum : A Portrait of Ra'ana Liaquat Ali Khan, Pakistan's Pioneering First Lady
Authors : Deepa Agarwal , Tahmina Aziz Ayub
Publisher : Penguin Random House India
Genre : Non Fiction / Biography
Copy : Flipkart Review Programme Copy
ISBN : 978-9386228673               
___________________________________________________________________________________________
Links :
Flipkart : The Begum: A Portrait of Ra'ana Liaquat Ali Khan, Pakistan's Pioneering First Lady
Amazon : The Begum: A Portrait of Ra'ana Liaquat Ali Khan, Pakistan's Pioneering First Lady
____________________________________________________________________________________________
Happy Reading,