Whenever it comes to Young Adult fiction there are only little books that are from India. I wonder why such a attractive genre much sought after is being in the dark. So when Toppers was introduced to me I was really glad, a book with a political thriller edge. Doesn't it sound amazing?
Aayush debuts to the writing universe with his Young Adult fiction and it doesn't sound a bit like a new writer. So the book's plot is set in a fictional town named Woodsville. A school clustered with the brilliant minds which is a top shot with the national level of appreciation and the plot is set when there is an election for "Head Scholar:. The narrative really intrigued me as I was visiting my days, I used to be a student.  The characters introduced to us makes the readers really find in their own reflection in the description of the characters and this makes us entwined with the story.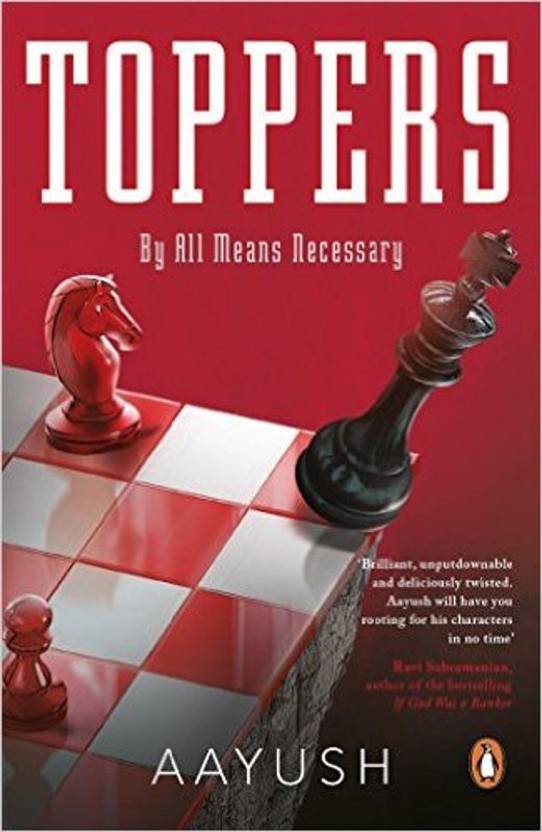 It is the plot and the narrative that keeps the readers hooked to the book although nostalgia plays an important card like I mentioned earlier. The characters although large remains in our heart portraying the emotions we have all gone through all our school life. The plot is also filled with many twists which makes this particular book to be even adapted or worked on to bring as a TV series which will eventually be a winner. The only negative is that there are many sub plots which I personally thought were deviating from the main line and distracting.
But the very thought of a political thriller set in a school atmosphere makes all these negatives become zero and the plot makes the only way to amaze us all through bringing intense emotions and imagined twists. The narrative makes this book to be in our hands without making a pause in the middle or something so that the  curiosity factor doesn't gets diluted in the mean time. The author is to be lauded for making such as a story in his debut book and introducing to authors and readers alike for what they have been missing most in the Indian contemporary Young adult scene. It may be many books are hidden in the dark but it is the duty of books which will be successful in the future to encourage readers to expect more like these  books and the authors to have the courage to explore the school scenarios or the teenage sections.
This book is a wake up call to be read by anyone who is interested in political fiasco's and school stories. Don't miss it, go and enjoy the days.
---
About the Book:
Title : Toppers
Author :  Aayush Gupta
Publisher : Penguin Publications
Genre : Fiction
ISBN : 0143428071, 978-0143428077
Copy : Flipkart Review Program
Rating :
---
Links :
Flipkart : Toppers by Aayush Gupta
---
Happy Reading,